If you want to create beautiful, durable containers, you can invest in a container mould. There are many types of container moulds available, including aluminium foil container moulds and two-plate injection moulds. Other types of moulds include plastic basket moulds and cold slug wells. These types of moulds are ideal for making small batches of items that require a high degree of protection against mould.
Aluminium foil container mould
The aluminium foil container mould is an important part of the production of aluminium foil containers. It has many uses, and can produce a range of different types of containers. These moulds are manufactured from high-grade steel and are highly versatile, allowing multiple processes to be completed in a single step. Its precise design and quality steel materials ensure long service life and stability.
A well-built aluminium foil container mould offers a combination of power, speed, and precision processing accuracy. The mould is built with black oxide machine tool finish for a superior look, and features advanced electronic control systems. These moulds are highly effective and inexpensive to operate. They feature an operator interface keypad, touch screen, stepper motor, and PLC for ease of operation.
Two-plate injection mould
A two-plate mould is an injection molding tool with a base and one parting plane. It is used for the production of two-piece containers. A multi-cavity two-plate mould also requires a runner and a gate. This mould is used to produce automotive parts and other large items.
The base mould of this type of mould has a small recess in the center to accommodate the injection gate of the preform. It is crucial to keep this gate in the center of the mould because deviation from the center results in an uneven wall thickness. This well catches the injection gate and prevents it from slipping.
A two-plate container injection mould has several advantages. Firstly, it allows for more accurate part size. It also facilitates the process of prototyping. Moreover, it allows the designer to create moulded parts quickly.
Cold slug well
Cold slug well container moulds are designed to trap the cooler advancing front of melt and let the hotter melt reach the cavity. These moulds typically have a sucker or snatch pin underneath to pull out the sprue bush. There are three common ejection pin designs: the undercut, snatch and stripper plate ejection pin systems. The pins should not protrude into the runner area.
When designing a cold slug well, it is important to remember that the cold slug well is often pushed out of the mold when demoulding. The cold slug well should have a reverse hook to prevent the sprue from washing into the mold parts. Moreover, it should have a large radius to avoid stress concentration at the corner of the channel.
Plastic basket mould
A plastic basket mould is a piece of moulding equipment that allows plastic material to be forced through the mould to create a finished product. The mould features two main halves, or plates, and a sprue-puller that pulls the plastic material through the mould and into the cavity. This tool allows the plastic material to flow through the mould with efficiency.
This tool is available in various designs and sizes, and can be customized to meet the specifications of the customer. Typical plastic baskets are made of HDPE or PP. Other types of plastic baskets include bottle baskets, stacking baskets, foldable baskets, and sea-fruit baskets. A plastic basket mould can be purchased from a supplier who specializes in making plastic baskets.

product name: Storage container mould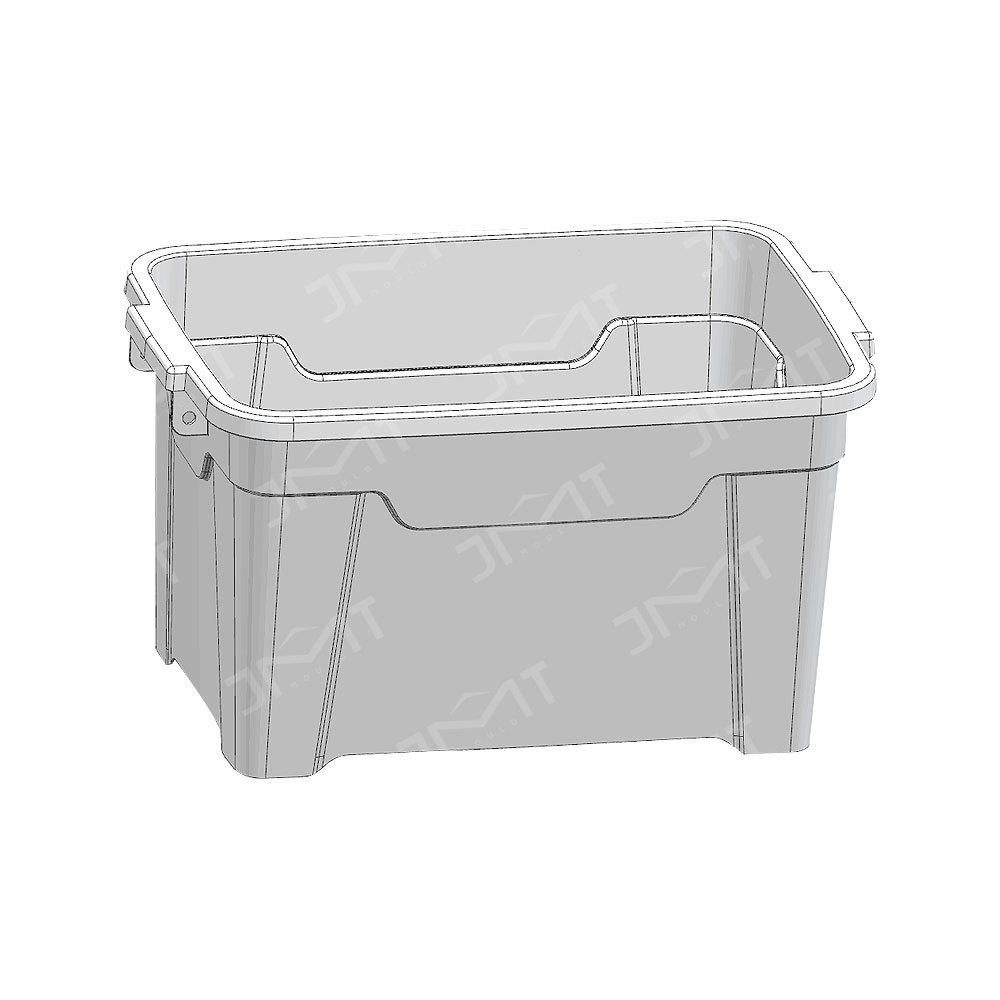 Product Description:
Storage container mould
with standard hardness for cavity and core, Germany steel for cavity and core, high speed injection, fully automatic ejection system.With years of working experience and state-of-the-art quipment, we can gurantee our customers high quality products, timely delivery and competive price.
After-sales Services
Experienced engineers will provide all-round technical solutions to any problems occurred in customers' mould operation.
Advantage
High efficiency, short delivery time, competitive price. You may send your requirement, or 2D, 3D design to us, We can make pipe fitting mould exactly as your needs.
JMT Commodity mould offers full service ranging from the orginal conception to product completion, totally the whole solution from the paper sketch to the functional part in your hand.